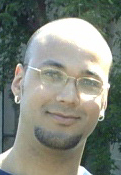 Eric Nunnally
Eric Nunnally is a self-styled poet, writer, artist and freelance web page designer.
Though born in San Diego, he has lived most of his life in Chicago, where he currently resides.
The Californian in him is often recognized in his bohemianesque attitude toward life and art.
"Art, in all its forms, tells the truth about a human being's relationship with the world s/he lives in..."
The artwerk on this page are samples of his work.
To contact the artist, please click on the email link at the end of the page.

Click on the images below for a larger view